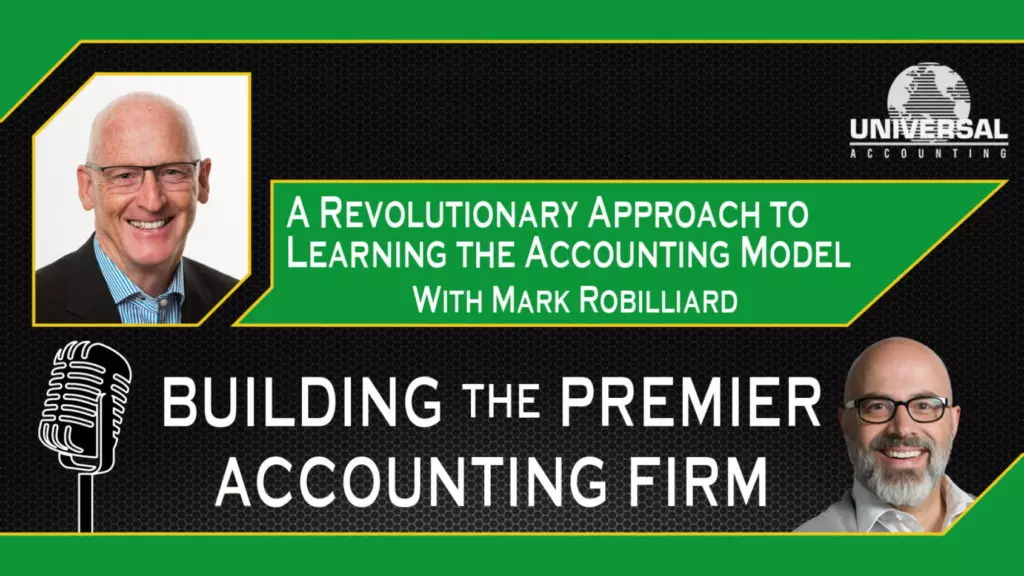 A Revolutionary Approach to Learning the Accounting Model with Mark Robilliard
Either as a degreed accountant or business owner we each would benefit stopping for a moment to consider the big picture of business as it appears in the accounting model.
Listen as Mark shares his story of stumbling into the accounting profession, graduating and working as an accountant yet still struggling to understand the big picture and then BAAM, it changed.
Color Accounting is a unique yet simple way to learn and explain the accounting experience.  For accounting professionals it's a refreshing perspective on something they do daily.  More importantly, for the non-accountant it's a fun interactive experience to understand the applications of transactions within business.
Hear how Color Accounting came about and how it applies to you and the relationship you have with your business clients.  Let Color Accounting help you communicate the accounting information to your clients in a way they can then use the reports you provide it to make more informed business decisions.
Your Host: Roger Knecht, president of Universal Accounting Center
Our Guest: Mark Robilliard, FCA
Mark Robilliard is Director of Education & Operations and Co-founder of Color Accounting International, an education and publishing firm headquartered in Washington DC.
He's an Aussie who lives in the US and travels widely, leading seminars in financial statement and business acumen skills, for lawyers, bankers and businesspeople. Some of his teaching for senior execs is done in secret.
Quick facts:
Fellow of Chartered Accountants Australia New Zealand.
Adjunct faculty at American University in Washington DC.
Was National Training Manager for KPMG Australia.
Managed the Human Resources Department for the largest insurer in Australia.
Taught at a variety of secondary, tertiary and post-grad institutions in the US and Australia.
Co-authored a number of books:

Accounting Comes Alive: The Color Accounting Parable
Color Accounting: The New Graphical System That Makes Learning Accounting Easy And Quick.
Third book due out soon.
He believes in working towards a financially conscious world.
Color Accounting International
What they do: Finance and business acumen workshops for non-financial people using a breakthrough graphical system.
The Mission: People are empowered to make wise decisions, collaborate effectively and amplify value – a financially conscious world.
Enjoy my other conversation with Mark HERE
Sponsors:
Helping accounting professionals confidently and competently offer quality accounting services to get paid what they are worth.
 Color Accounting International is a publishing company, a licensing company and education provider.  They've developed and distribute the Color Accounting® learning system. They work with a network of accredited Partners and different languages around the world.
They are a social enterprise, with a dual social-impact and commercial motive.  They advocate accounting as a fundamental form of literacy, like Reading, Writing and Arithmetic. Accounting literacy has the power to improve lives, corporations, not-for-profit organizations and governments.
The Color Accounting Network includes:
Sales Partners, who provide educational workshops for their corporate clients
Corporate Educators, who are accredited by us to facilitate events run for corporate clients
Academic Educators, who teach accounting in educational environments such as schools and universities.
Offers:
Enroll today in Color Accounting, take the course for yourself and then introduce your clients to it.  See how this can improve your working relationship, client communication and then generate referral for you.
Get the books mentioned in this episode:
"Color Accounting" and "Color Comes Alive"
Become for your clients their profit and growth expert.  Read "Red to BLACK in 30 days – A small business accountant's guide to QUICK turnarounds."  This is a how-to-guide for accounting professionals to help you confidently address the challenge that most business face, cash flow.  This is a must read!  Get your FREE copy of the e-book now!
Remember this, Accounting Success IS Universal.
Listen to our next episode and be sure to subscribe.
For more information on how you can apply these principles in your business please visit us at www.universalaccountingschool.com or call us at 801-265-3777